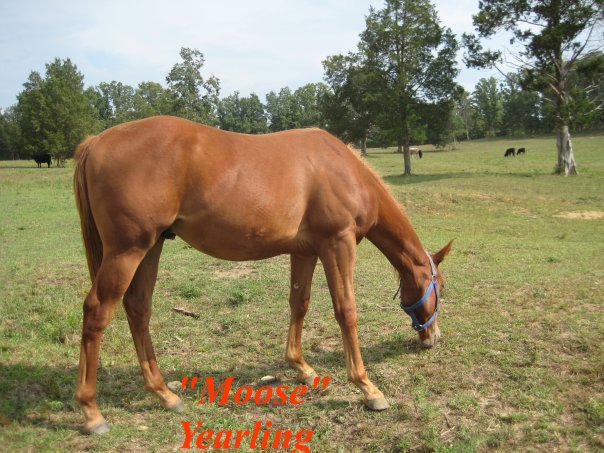 Slew City Warrior (SAPHA) is our one and only solid paint born in 2009. But for what he lacks in color, he makes up in personality! He is our favorite and "pick of the litter" when it comes to a charming personality and he's bombproof. His name says it all and he's built to run! He's definately got the TB genetics in his hindquarters and wow, what a shoulder. His mom is just as gifted in personality. "Moose" is our sweetheart and has the heart of the entire family wrapped around that leggy soul. At a year old, he has already reached his mother's height.
Dam is Call At Night (Registered TB Jockey Club) who spent two years on the track before going into the breeding program. She is as bright a sorrel as he is and is body build identical to this baby. She is the daughter of stakes winner City By Night, gr granddaughter of Seattle Slew.
SIre is Rhterific Warrior (APHA) and is our loudly marked red sorrel with Three Bars, Jet Deck and Leo foundation.
He is now a gelding.
Currently for Sale: $1,500.00